Thank you for your interest in the Catalyzing Communities initiative! Our RFP application is currently closed and we are in the process of reviewing applications. Please email us if you'd like to get in touch, or learn more about our process here. 
There are two steps of this application process: (1) a short online application, due June 25, 2021 by 11:59 PM ET, that will be submitted via Qualtrics, and (2) a finalist interview (virtual) and request for supplemental information.
Watch our webinar that gives more details on the Catalyzing Communities partnership here. If you have any questions, please email us at catalyzingcommunities@tufts.edu.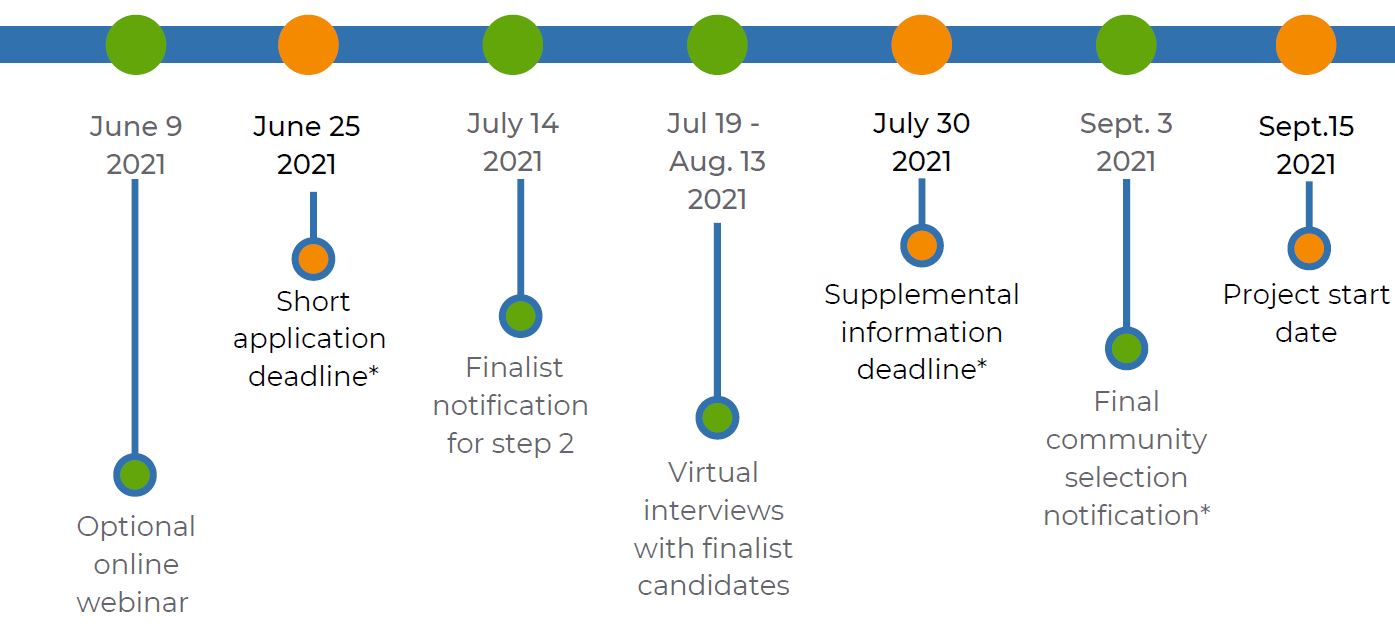 Key Dates
June 9, 2021: Optional online webinar
June 25, 2021 (by 11:59 PM ET): Short application deadline
July 14, 2021: Finalist notification for step 2
July 19 – August 13: Virtual interviews with finalist candidates
July 30, 2021: Supplemental information deadline
September 3, 2021: Final community selection notification
September 15, 2021: Project start date
Online applications will be reviewed and scored by a panel of both internal and external reviewers. Finalist interviews will be conducted with the Catalyzing Communities team. We will ask finalists to provide letters of support from two different organizations in your communty that are aware of and support this partnership. The Catalyzing Communities team will make the final decision on the three partners, using information from all steps of the application process.
To learn more about you, your coalition, and your work in advance of the interview we will also ask that finalists provide some supplemental information. The below is a list of suggested documents that you may choose to provide in advance of the interview:
Coalition strategic plan or action plan
Press release or news coverage of a recent event
Blog post or news story about the work of the coalition
Infographic showing results of a recent initiative
Evaluation strategies or data collection to measure impact
Annual report
Social media presence (e.g., Facebook page, Twitter or Instagram account
Our online application has three sections, each of which will be scored by the review panel. 
Coalition information: We are looking to partner with existing, multisector coalitions, serving a geographically defined area and working to implement equitable childhood obesity solutions to help all children thrive. High scoring answers in this section will clearly detail the work of a coalition that has a history of working to address childhood obesity and health equity in the community. Additionally, high scoring responses will describe coalitions that have an established governance or leadership structure, and the capacity to engage in a Catalyzing Communities partnership. 
Community relationships and context: Given our previous work in community change, we know the importance of buy-in from community champions. High scoring answers in this section will demonstrate commitment from local leadership to support the work of the coalition, and robust engagement strategies for engaging all members of the community. High scoring answers will also demonstrate an awareness of the broad range of issues that impact child health and health disparities. 
Vision for this partnership and your community: High scoring answers in this section will demonstrate a strong and clearly articulated interest in pursuing this partnership. We will also look to make sure that the vision for the partnership is in line with the resources that the Catalyzing Communities project has to offer. 
Learn more about the other communities where Catalyzing Communities is already making a difference in the lives of children and families.